Will Styler
Associate Teaching Professor of Linguistics at UC San Diego
Director of UCSD's Computational Social Science Program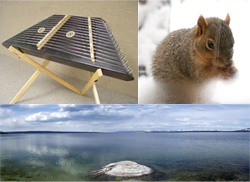 Although my students may have trouble believing it, there's actually more to me than linguistics.
Computational Nerding
As you might expect from a computationally-minded linguist, I'm a gigantic tech geek with a huge soft spot for free-and-open-source software.
Although I spent much of my life on Mac OS X, Apple has fallen into a sort of corporate narcissism and become everything that Apple claimed not to be. So, I'm now running Linux on all of my machines, doing productivity, gaming and work-related computing on Fedora (Kinoite). Also, although I don't do anything interesting enough to actually warrant it, I'm a cryptography geek as well, mostly because the technology and math behind it all is fascinating, and because it's a lot like speech (encoding and decoding meaning from chaos). I'm fluent in R, Praat script, LaTeX, HTML, Python and Bash, and know enough MATLAB to be able to get data out of MATLAB quickly. And before you ask, although I spent a good bit of time in emacs, neovim is my editor of choice.
I do also enjoy making websites, although I only do it for myself and the causes I like. This site is now built using Markdown converted using Pandoc, with all my markdown stored in Obsidian.
Industrial Design and Tools
I find masterfully made objects, whether a wristwatch, a pen, a pocketknife, or even a razor for wet-shaving, deeply satisfying to my soul. Even though it may do the same job as a little BIC pen or an $8 digital watch, there's a joy to owning and carrying an object that was designed with care, made with precision, and optimized for daily use. And of course, maintaining, understanding, appreciating, analyzing, and contemplating these tools is a separate source of joy, leading me to deeper forays into sharpening and, with less skill, watchmaking. This is, of course, just a fancy way to say that yes, I probably have a pen on me, can likely help you open that box, I very likely know the time to within a few seconds, and I've almost certainly over-thought every inch of the tools I'll use in the process.
Related, if you're ever looking for a nice $100,000+ gift for me, the F.P. Journe Chronometre a Resonance is a pretty excellent choice for an acoustics geek.
Writing
I'm the creator, writer and webmaster for the (now deactivated) language and linguistics related blog "Notes from a Linguistic Mystic" (many posts are archived here). Because of this, I've been considered an authority on the linguistics of LOLcats, and have been interviewed several times on the matter. Go figure. But I've also been mentioned on the Language Log, so I must be doing something right.
I very much enjoy writing short fiction when I have time (which I never do), and I'm delighted to say that one of my pieces, "In the Shadows of Hemera", was published in the XXVI Isonoe issue (October 2009) of the (now defunct) Jupiter Science Fiction magazine. Now that the magazine has perished, I've posted the story here, but be warned, I've read too much Dostoevsky, and it is not cheerful.
Music
In rare moments when I have time to set it up and tune (which, at this point, hasn't been for years!), I enjoy playing the Hammered Dulcimer and Mountain Dulcimer, and I love the world of music. I tend to write and learn more relaxing, ambient pieces, and my favorite genres are ambient and chill-out electronica, acoustic guitar, classical, downtempo, and folk. My musical influences include Vector Lovers, Slow Dancing Society, Boards of Canada, Shpongle, The Bedsit Infamy, Jenny Owen Youngs, Charles-Valentin Alkan, Jeremy Soule, Conjure One and Sasha.
I've taken a few years worth of music theory and voice lessons, and every day I find music nestling up more closely with my phonetic studies. As such, I may be the only person on Earth analyzing Hammered Dulcimers using Praat phonetics software. Not really sure whether to be proud or ashamed of that, but it probably says something both about my approach to music and to phonetics.